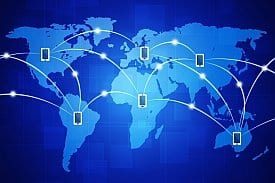 Companies have long used international virtual numbers to appear local in markets where they lack a physical location.
They do this by establishing a local virtual phone number and then using call forwarding to route those calls to a call center located internationally.
For example, a caller in Savannah, Georgia might dial what appears to be a local number, yet the call will ring to a call center located in some other city, or country for that matter.
As a small business owner, you can use call forwarding in a similar fashion. For example, if your ideal clients are located in New York City but you're in Los Angeles, you could order and publish a New York City virtual number and then instantly divert those calls to your LA office. Your clients and prospects do not necessarily need to know that you're on the other coast.
Establishing a local phone presence with virtual numbers
In addition to establishing a local presence elsewhere, many business professionals use call forwarding to ensure that they never miss a call despite frequent travel. While you could use your cellphone to ensure this, you may not want your customers, prospects, and colleagues to have your cellphone number directly. By using call forwarding, you can control when and where you'll receive calls.
For example, you could order an 800 or local phone number and set up call forwarding to your main office line. On days when you work from home, you can switch the ring to number to your home phone line. When traveling on business, you could forward your calls to your cellphone or hotel room.
By using call forwarding in this manner, you can be reached wherever you are without having to give out your private phone numbers. In addition, should you move your office, you will not need to change your business cards, stationary, and advertising materials. Simply change your ring to number.
Global call forwarding using Virtual Numbers is a flexible tool that allows for localization and portability. It's an affordable option that works beautifully for international, domestic, big and small businesses alike that do business globally but need to be accessible locally.